D

oor

R

eplacement Peel

R

egion
Door Replacement Peel Region
Have you ever passes a door to a home and thought, now that is a beautiful door or a fantastic door design? If you have caught yourself admiring someone else's door, then you are not alone, many people lean on other people's design choices for inspiration, with their own door replacement Peel Region. Making a great first impression is your front entrance door…it is the one part of your property that will leave a lasting impression (people tend to remember 'the gorgeous, eclectic wood door' as an example, but if your door stands out, it will be memorable). Our company can 'open-up' all your options, guide you on narrowing down what will work best for your style, your home and of course, keep you on track with your budget. Below, we have broken down the basics, to help get you started in acquiring the knowledge you should have prior to making any major decisions final.
Medley of Materials
The top contender for many homeowners is fibreglass for entrance doors. Fibreglass is versatile, it is made either plain or in clad wood (authentic-looking wood-grain textures), which can be veneered, painted or factory finished, it is very resilient to all weather elements (it does not contract or expand like other door materials), it is strong, minimally conducts heat or cold (energy efficient), works well with framing and is super-low maintenance. Wood material is the more expensive option, but many homeowners love their authentic woods when it comes to their entrance doors. Wood has always provided a decent degree of energy efficiency, the various types of woods like oak can be painted/stained or veneered, wood requires the most maintenance to perform well and wood can rot, crack and warp with changes in humidity, moisture and fluctuations in temperatures. PVC/vinyl material are about as durable as a door can get, they have 50 + years of longevity, are low maintenance, very durable and even hold up to scratches (they are painted all the way through), possesses thermal blocks in the frame (absorbs heat so no losses in the winter or summer – energy efficient) and withstands all weather conditions. Steel is a great material to use for an entrance door or a patio doors, but is less energy efficient than some of the mentioned materials, and is susceptible to denting. Steel is strong & security-friendly, it can be painted or provided with a factory finish and is cost effective. For patio doors, aluminium is usually a sound choice for door frame material as it resists the weather elements well, it is lightweight yet strong enough to carry glass panes, is ideal for sliding and swinging doors and is paintable or factory finished.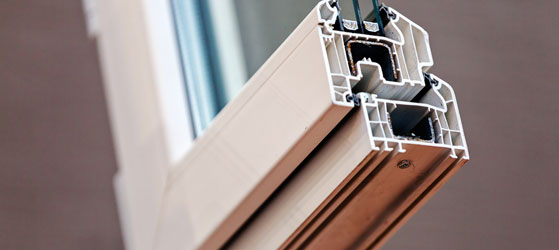 Details' Diversity
Now comes the finer details' that you should consider, so when you are ready to move forward in picking one of our stock doors or ordering a custom-made door, you have good, basic information under your belt. Consider the panel type and options for glass panels (single pane, double pane, triple pane), performance factors like Low-e coatings, inert gas fills, decorative accents, impact resistance, textured glass and internal glass blinds or grids. You will need to decide how you want your new door to be configured (a single door, double door, sidelites & transoms) and the door swing is also important (inswing or outswing) and the door handing (which direction the door will swing – left hand inswing or right-hand inswing). Now, another thing you can consider, as new doors and some bells and whistles that go along with them, can be costly, and to protect your investment, storm doors are a great solution (acting like a shield of protection for your new door replacement Peel Region).
Inspiring Elements
The bells and whistles mentioned above would encompass inspiring elements like choosing decorative accents to your glass panes, having Low-e coatings applied for energy efficiency, upgrading the hardware for a different look, enhance security features like multi-point locking systems and decorative products like grilles, bars, internal grids, internal blinds and interchangeable screen/glass options. Those great little glass panel windows that you sometimes see on either side of an entrance door or above it shaped like an arch? Those are also options you can think about if you are doing a home renovation (transoms and sidelites are super-fun additions that gives any replacement door a unique style!).