D

oor

R

eplacement

M

ississauga
Door Replacement Mississauga
One of the biggest reasons homeowners feel door replacement Mississauga is more like an overwhelming task, is because of the massive selection of doors available on the market today, and their 'energy-friendly' R-value ratings (that can be confusing to some) and all the fancy extras offered. Our company understands our Canadian customers, what they want from a replacement door, our shared Canadian climate zones (there are three different zones), and what works well for them (especially when working with a tighter budget!). Our door experts are on hand to provide you with solid advice and helpful guidance, to get you through this process with ease. No matter what type of door replacement your after (hinged doors, sliding doors, storm doors, panel doors, glass doors or screen doors), we can help.
Medley of Materials
The first fun thing to do when choosing door replacement Mississauga is, picking out the doors' material, and knowing what types of materials are available to you (stock doors or custom made) really does help launch this process. Aluminium is usually a sound choice for patio frame material & storm door material, as it resists the weather elements well, it is lightweight yet strong enough to carry glass panes, it is ideal for sliding and swinging doors and is paintable or factory finished. Wood material is the more expensive option, but many homeowners love their authentic woods when it comes to their entrance doors. Wood has always provided a decent degree of energy efficiency, the various types of woods like oak can be painted/stained or veneered, wood requires the most maintenance to perform well and wood can rot, crack and warp with changes in humidity, moisture and fluctuations in temperatures. Steel is a great material to use for an entrance door for added security via its strength, or a patio door, but is less energy efficient than some of the mentioned materials, and is susceptible to denting. Steel is strong, it can be painted or provided with a factory finish and is cost effective. Fibreglass is versatile, it is made either plain or in clad wood (authentic-looking wood-grain textures), which can be veneered, painted or factory finished, it is very resilient to all weather elements (it does not contract or expand like other door materials), it is strong, minimally conducts heat or cold (energy efficient), works well with framing and is super-low maintenance. Vinyl/PVC doors are about as durable as a door can get, they have 50 + years of longevity, are low maintenance, very durable and even hold up to scratches (they are painted all the way through), possesses thermal blocks in the frame (absorbs heat so no losses in the winter or summer – energy efficient) and withstands all weather conditions.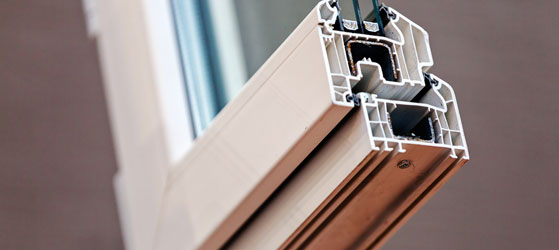 Details' Diversity
When considering door replacement Mississauga, there are some other factors to think about and make decisions on. The panel type and multiple options for glass panels (these are the second and third biggest decisions). You will want to then think about your glass options (performance via energy efficiency like Low-e coatings, decorative accents, impact resistance, textured glass and internal glass blinds or grids, just to name a few). How you want your door to be configured (a single door, double door, sidelites & transoms) and the door swing (inswing or outswing) and the door handing (which direction the door will swing – left hand inswing or right-hand inswing). These are all major decisions, but you can take heart that the rest of the finer details are easier and are just as or even more enjoyable! Sliding doors and hinged doors all come with various options, as does prehung systems (includes the door hanging in its own frame & all parts needed) and door slabs (are just the door itself). Some homeowners are just handy enough to measure the inside frame and simply order the door slab & hardware and install it themselves.
Inspiring Elements
There are lots of little extras that can go a long way for your new door, like security features (multi-point locking system & stainless-steel screen mesh) and a wide spectrum of glass options (Low-e coatings, glazing, tinting, beveling, single pane, double pane, triple pane, inert gas fills, internal blinds, internal grids, decorative accents and much more). Fresh designer hardware pieces can also make your new door pop with style!