D

oor

R

eplacement

E

tobicoke
Door Replacement Etobicoke
Did you know that door replacement Etobicoke ranks very high as one of the most cost-effective home upgrade, with a 95% return on investment? It is true, and what's even better is, that hunting and doing a little bit of research about your door replacement is more enjoyable than is generally realized! Two perks right off the bat! Our company strives to make replacing doors a simplified process for our customers, and with our expert team of door specialists, you can be assured that you can acquire assistance along the way. Below, we have outlined some very important information and the different steps and decisions you will have to make about your new door(s), and decide on your set budget. Whether you are looking for door replacement for your entrance door, patio door or interior doors, you have a wide range of styles, types and various 'add-ons' that will make your door replacement specialized to your home and personal tastes.
Medley of Materials
Steel is a great material to use for an entrance door or a patio doors, but is less energy efficient than some of the other materials offered, and is susceptible to denting. Steel is strong (often chosen for its strength and better security), it can be painted or provided with a factory finish and is more cost effective than some other door materials. Fibreglass is versatile, it is made either plain or in clad wood (authentic-looking wood-grain textures), which can be veneered, painted or factory finished, it is very resilient to all weather elements (it does not contract or expand like other door materials), it is strong, minimally conducts heat or cold (energy efficient), works well with framing and is super-low maintenance. PVC/vinyl is about as durable as a door can get, they have 50 + years of longevity, are low maintenance, very durable and even hold up to scratches (they are painted all the way through), possesses thermal blocks in the frame (absorbs heat so no losses in the winter or summer – energy efficient) and withstands all weather conditions. Wood has always provided a decent degree of energy efficiency, the various types of woods like oak can be painted/stained or veneered, wood requires the most maintenance to perform well and wood can rot, crack and warp with changes in humidity, moisture and fluctuations in temperatures. Aluminium is usually a sound choice for patio frame material & storm door material, as it resists the weather elements well, it is lightweight yet strong enough to carry glass panes, is ideal for sliding and swinging doors and is paintable or factory finished.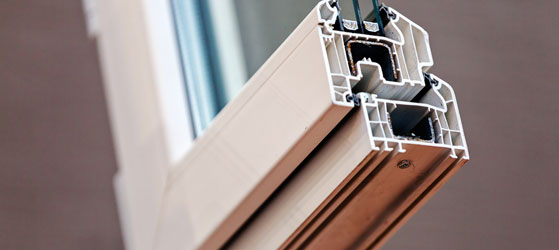 Details' Diversity
There are still a few details that will need your attention, and to help you narrow down all the diverse options that comes with each aspect of a door. Sliding doors (great for patio doors) and hinged doors (typically entrance doors & storm doors) all come with various options, as does prehung systems (includes the door hanging in its own frame & all parts needed) and door slabs (are just the door itself). Then you have a few other things to consider like how you want your door to be configured (a single door, double door, sidelites & transoms) and the door swing (inswing or outswing) and the door handing (which direction the door will swing – left hand inswing or right-hand inswing). You should consider the panel type and options for glass panels and think about your glass options (performance perks like Low-e coatings, decorative accents, impact resistance, textured glass, tinted glass and internal glass blinds or grids, just to name a few). Many of these are additional options, but it is always wise to know exactly what you can have, and then decide if you want to have it.
Inspiring Elements
Your have choices when it comes to door replacement Etobicoke…and there are plenty of energy efficient & fancy extras to pick from too! Storm doors are an excellent addition to your door replacement Toronto because it adds energy efficiency and protects your new doors. Other inspiring elements you can investigate are upgrades to weather stripping, upgrades in hardware (locks, handle sets, levers, knobs, deadbolts and more), better security options (like multi-point locking systems), decorative grilles, grids, bars, beveled glass & glass decorative styles/Low-e coatings, glazing and the list goes on.