W

hy

eco

Vinyl

ecoVinyl is environmentally friendly in the sense that it is manufactured to last for 50 + years (25-year warranty proves its durability and longevity in everyday use in windows & doors), so that it does not make it into landfills for many years after it is made. There are other benefits to ecoVinyl like it is nonallergenic (repels mold), it can safely be recycled, it is a safe, low-maintenance product that is pet & child-friendly. Other materials used for framing windows and doors have some negative effects on the environment like woods that require regular staining, veneering or painting, both indoors and outdoors. The safety aspect of ecoVinyl is derived from its manufacturing, the corners are welded, which prevents them from coming apart or falling apart, which happens sometimes with aluminium frames for doors and windows. ecoVinyl offers a much smaller carbon emitting footprint, which is helpful for the environment and saves consumers money over time.
Energy Efficiency of ecoVinyl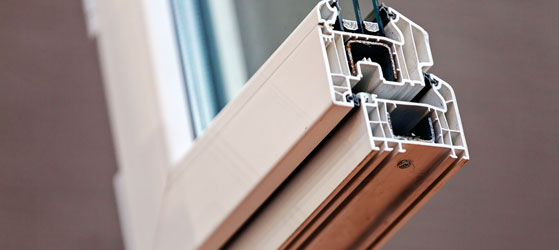 There are many perks when it comes to ecoVinyl products, and at the top of the list, is its cost effectiveness over other materials like steel, aluminium, fibreglass and wood. ecoVinyl is able to be insulated with foam, so it provides additional thermal efficiency, which is great news for homeowners that want extra energy efficiency, through an already cost effective and budget worthy investment! Saving money over the duration of the lifespan of your ecoVinyl is just the beginning! ecoVinyl is easier to install because it is manufactured for versatility in use of framing for windows and doors, and it is easily custom made! Designer styles, traditional styles, modernist styles…the list of possibilities are endless for homeowners who want their ecoVinyl to be just as aesthetically pleasing as it is highly functional. Designers and builders prefer to work with ecoVinyl for its easy modification abilities, and is preferred for framing when it comes to new windows and new doors.
The Benefits of ecoVinyl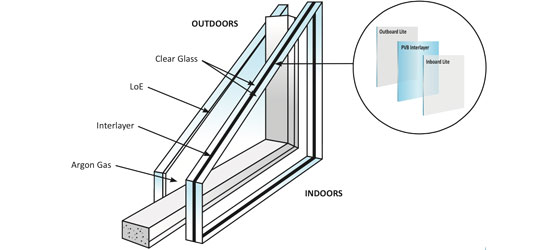 The list of benefits of ecoVinyl just keeps growing and growing. ecoVinyl is made up of a synthetic plastic polymer, which in turn provides a strong, weather resistant material that is perfectly suited for use with storm doors, entrance doors & window framing. ecoVinyl is rigid, hard and durable, which has proven to be an excellent and flexible material for the use in new constructions (ecoVinyl can be provided with a large swatch colour palette selection, and designed with custom made touches like wood-looking grains or metal copy-cat styles). ecoVinyl is resilient, it does not fade with sunlight, does not rust, is resilient to chemicals, weather elements like wind & rain/snow, denting, mold, deterioration and corrosion. ecoVinyl is basically maintenance-free, which is super ideal for homeowners that do not have time to constantly 'touch up' the exterior façade of windows & doors, because the weather elements work hard against its surface. An occasional washing (outside of natural rain showers) is the only attention that ecoVinyl needs, over a long period of time.
ecoVinyl Does Not Always Stand Alone
ecoVinyl that is used for windows & doors is a blend of plastic and added composite materials and/or metal, to reinforce the frames to improve performance, durability & strength. The sashes that are used in conjunction with window & door functions can also be made of ecoVinyl material, and the ecoVinyl is manufactured to make up the perimeter frame and surrounding frames. Many kinds of windows & doors employ ecoVinyl as the framing agent (like casement windows, fixed windows, single & double hung windows, single & double slider windows, awning windows, end vent slider windows, bay windows & bow windows, storm doors, entrance doors, patio enclosures and much more!).
ecoVinyl Care & Maintenance
ecoVinyl can be cleaned a couple of times a year outdoors with just simple, gentle soap cleaners that are commonly found in people's homes, and this can easily be done by you (no additional costs for chemicals or technical service calls, mild soap and warm water does the trick beautifully!). Make sure to rinse the vinyl framing well, for residue of soaps can affect the performance of vinyl in a negative way, both with the interior framing and exterior framing. If you are tempted to use any cleaners on your ecoVinyl products, then a soft, non-scratching cloth and some warm water & mild/gentle soap will do, no harsh chemicals or abrasives and rinse all residue off the framing before it has a chance to dry completely. Even a damp cloth will remove any dust or dirt from the vinyl, both inside and outside.